All the signs point to an increasing focus on the role food packaging plays in sustainability over the coming months. Change is being driven by both regulation and changing consumer habits too. So, what are the challenges and opportunities for sustainability in packaging 2022?
Consumer attitudes and motivation
The main driver is that consumers are more likely to be more concerned and more responsive to the environmental impact of what they buy and use. Market research firm Kantar looks at consumer attitudes around sustainability annually. They group consumers into three broad categories:
Eco Actives are the most concerned about the environment. They are already taking a range of actions to reduce their environmental impact.
Eco Considerers are aware of the need to reduce our environmental impact. They've already made some changes but would go further but for convenience and cost.
Eco Dismissers have little interest in the environment and are doing little, if anything, about it. They lack awareness of environmental concerns or actions, either believing that they cannot make a difference or not caring about it.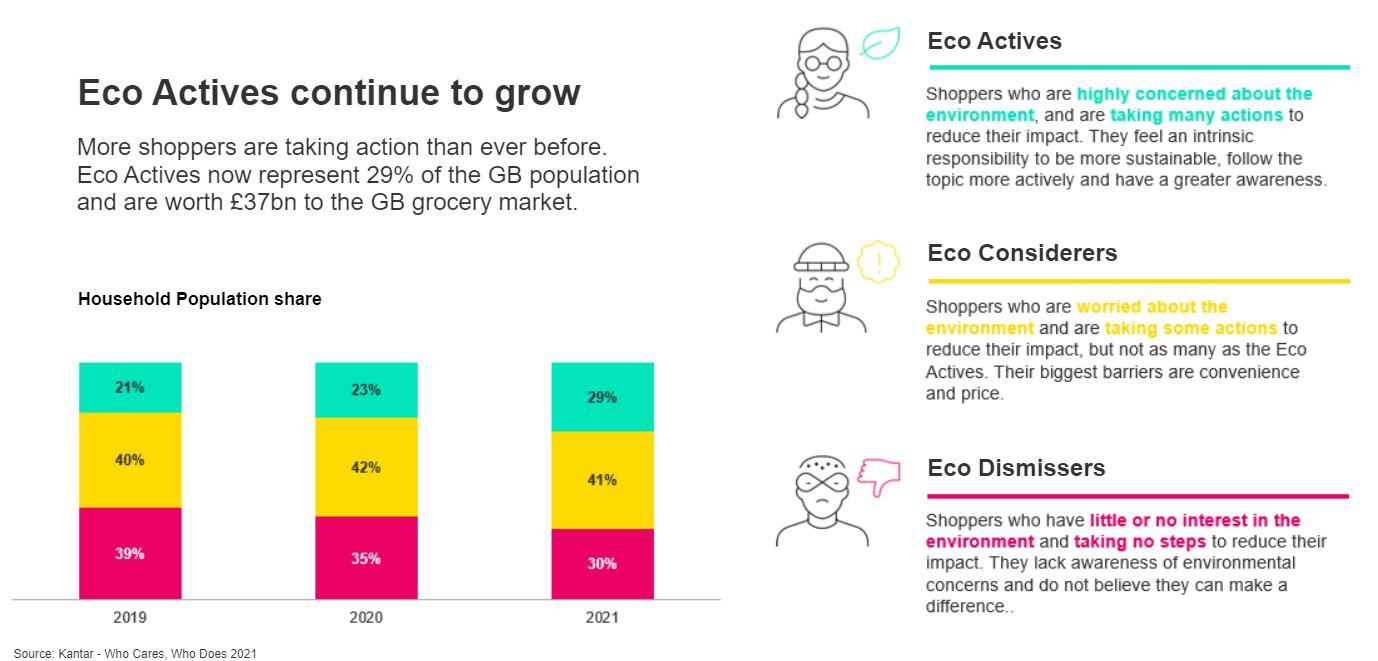 According to Kantar, Eco Actives are now worth £37bn to the UK grocery market, increasing from 21% of UK households in 2019 to 29% in 2021. They represent an opportunity for brands, retails and producers who want to create change. Eco Dismissers are declining as a proportion of households – from 39% in 2019 to 30% in 2021. The great majority of homes want to see change and are willing to change their behaviours – from packaging to even following a 'climatarian' diet – especially if it can be made convenient and cost-effective.
Sustainability in packaging 2022: Plastic Packaging Tax comes in force in April
Alongside changing consumer attitudes, there are also changes in legislation and requirements. In April, the Plastic Packaging Tax comes into force, levied on plastic packaging made in or imported into the UK. Packaging that contains less than 30% recycled plastic will be liable for tax at the rate of £200 per metric tonne of material. The burden for paying the tax is likely to fall on packaging manufacturers. However, there will be a cost impact on producers, and it's expected to increase awareness among the public.
Supermarkets help increase recycling of flexible plastics
I often get asked about options for packaging using flexible plastics – films, wrapping and other non-solid plastics. The industry is looking to create a circular economy for flexible plastic packaging. The UK Plastics Pact Roadmap (published in 2020 by WRAP) called for supermarkets to help improve recycling rates for plastic bags, wrappings, etc. The Flexible Plastic Fund, which launched last summer, incentivises recycling by guaranteeing a minimum price for recovered plastics. The number of collection points – at UK supermarkets – is expected to reach 6,000 by January 2022.
With better plastic recycling at home too
Increasing the proportion of packaging that can be recycled at home – or 'at the kerbside' – is essential, especially for the Eco Considerers. Research from WRAP (the Waste and Resources Action Programme) and RECOUP shows that although all local authorities collect plastic bottles and 84% collect plastic pots, tubs and trays, only 59% of plastic bottles and 33% of pots, tubs, and trays are being recycled. From 2023 there will be national consistency for recycling collections. This should increase recycling rates and make messaging clearer and more effective.
Carbon footprint labelling to help consumers choose
FMCG giant Unilever looks set to introduce carbon footprint labelling on a 'select range' of its product. While their initial range may well be a tiny subset of the company's 75,000 product lines, the initiative and associated publicity will likely represent a significant milestone and set the tone as we go through 2022.
The ability to review – and compare – products' carbon footprints could well be key to a step change in reducing environment impact. Supermarkets will be making buying decisions based on the environmental impact of products. Why? Because I'm pretty sure that, given a like-for-like choice, most consumers will choose carbon neutral (or even carbon positive) options.
To discuss how sustainability in your packaging can contribute to change, book a discovery call now.