Packaging plays a crucial role in presentation, transportation and sustainability for all food and drinks businesses. For direct-to-consumer brands, there are some specific challenges – and opportunities – to consider with sustainable D2C packaging.
Even before the pandemic, the direct-to-consumer business model has been growing significantly, especially in the food and beverage sector. The Grocer recently reported that "44% of consumers say they plan to do more of their grocery shopping online in 2021 and 2022". A Barclays report highlighted that it's food and drink manufacturing that will benefit most from D2C growth, predicted to add almost £6bn of revenue between 2020 and 2023.
In parallel with this trend, there is also a strong expectation that businesses will play their part in reducing environmental impact. The Barclays report also suggests that the growth in D2C could increase the industry's sustainability as "23% of consumers now say that this has an influence on their purchasing decisions".
Sustainable D2C packaging for food brands and their products
Packaging plays a vital part in maximising your sustainability, alongside logistics and manufacturing. Of course, it also plays a functional role, protecting the product in its journey to the consumer. What's more, because packaging tends to represent a higher proportion of a D2C business's costs, you need to have one eye on cost-effectiveness too.
The good news is that protecting the product during transit typically involves padding, something that cardboard is ideally suited to. It also offers high axial strength, so contents are unlikely to get crushed when stacked. Cardboard is also excellent for sustainability. It's generally 90% recyclable, and there's good infrastructure in the UK for cardboard recycling.
Packaging is the storefront for D2C brands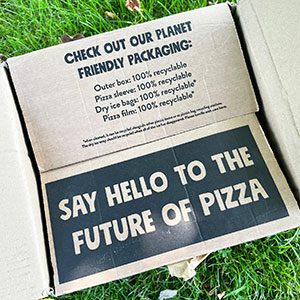 Beyond protecting your product, packaging represents a real opportunity for brands that sell directly to the customer. Just think about the anticipation of your customers receiving a product. It can be a moment of genuine engagement and delight. The phenomenon of unboxing videos on YouTube highlights its potential.
When you're selling via retailers, packaging has the job of standing out, informing, and selling the product to customers. When customers encounter your sustainable D2C packaging, they've already made the purchase. That doesn't mean you should care about the packaging, though. You want them to enjoy the product, make sure they have a good experience, and, most importantly, purchase again. They might even tell other people about their experiences.
The brands that stand out are the ones that deliver at the various 'moments of truth' that customers have with them. Can you make it engaging and memorable? Perhaps you can use the outside of the packaging to communicate the sustainability credentials of your primary packaging to your clients?
Stand out, delight, and entertain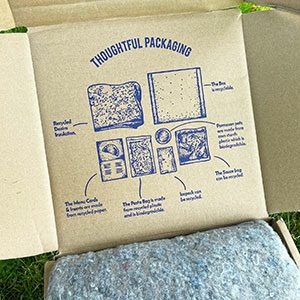 It's all too easy for D2C packaging to underwhelm, with retail packaging hidden away in generic containers. Treat it as an opportunity and remember to focus on standing out and differentiating your product. By printing on the outside of the packaging, you can build the customer's anticipation for the product from the outset or even communicate the sustainability credentials of what they're receiving.
Flexible and innovative sizing and formats
Cardboard can offer flexibility in terms of size. There has been much innovation, driven by all kinds of D2C businesses who fulfil products of all sizes. Of course, we're not just concerned with the size of the package that's sent to customers. There's the challenge of managing your packaging inventory to consider too. Flexibility and innovation help here, too. 'Crashlock' bases flatten quickly for storage (and then recycling) but are easily put together by packers.
Maximising the efficiencies
Getting the size of your packaging right can be a route to cost savings, especially when you think about packaging in its broader context. I've helped many clients to find efficiencies in their packaging. It's not just about the materials used to create it – consider the logistics and supply chain. In the past, I've recommended resizing packaging by just a few millimetres for the simple reason that it has doubled the number of units that can fit on a pallet. As you can imagine, this reduces shipping and storage costs significantly.
Thinking outside the box
It's this kind of 'thinking outside the box' (pun intended) that can maximise the effectiveness and sustainability of your packaging. Consumers increasingly expect the companies they buy from to minimise the impact their products have on the planet. Or even find ways to have a net positive effect. This involves looking at the impact of your whole product, not just its packaging.
Beyond recycling – options for reusable packaging
Could you make your packaging not just recyclable but returnable? Using the packaging multiple times allows you to look at materials other than cardboard. Reuse reduces the impact by dramatically reducing the use of resources in recycling.
UK pilot schemes by companies like Loop and Boox suggest a way forward where packaging can be used in a more 'circular' way. Loop is piloting in Tesco stores, offering a range of products that can be bought in reusable packaging to be returned, washed and refilled for the customer.
Boox requires less infrastructure and scale. They offer e-commerce and D2C companies a reusable plastic container that is sturdy and high impact. Each 'boox' can be flattened and returned, and is recycled after 20 uses. The company claims that they reduce environmental impact by 75% compared to single-use packaging.  
If you'd like to discuss the effectiveness, efficiency, and sustainability of your packaging, contact us or book a discovery call today.